Secure Back-up and Recovery Provided By IDrive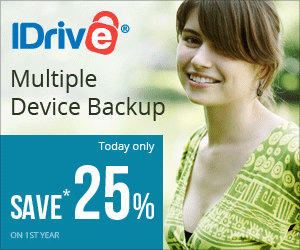 | | |
| --- | --- |
| | These days most of our important records, files and family photos are stored digitally. If there was ever a disaster in our homes, or office, instead of digging into the closet for folders and photo albums, many of us would be pulling wires from the back of our computers. If the same were to happen in your office, it may be a bit more difficult to remove every computer, or a large, heavy server. What do you do now? |
| | |
Protect Yourself from Theft, Fire, and Floods
All of your data is backed up to a fully dedicated, secure, 256-bit encrypted server. No one gets in, Nothing gets out.

Recovery is just as simple as backing up. Your data is always one click away,
Do you have important files or photos on your computer? Wouldn't it be nice to have a back-up that you can trust and access at any time?
We offer Back-up Solutions for everyone. If you're at home, or at the office, allow R&M Computers to make sure your files are safe and secure. Our servers are protected with a 256-bit encryption, which ensures safe transfer, and not compimise your privacy and safety.
PC Repair and Diagnostics
Does your PC seem to be slower or sluggish? Does it seem like things just dont work like they used to? Tired of seeing all of those error messages? If it doesn't quite operate like it did new out of the box, we can help fix it remotely, come to your location, or work on it at our shop. No matter what the issue, we'll get you going again in a quick and timely manner.